Skin Care
Physician-Grade & Results Oriented
AVIE!'s focus on skincare is based on prescribing the most effective methods to correct skin problems, revitalize, regenerate, nurture and hydrate your skin using a full line of physician grade, customized skin care treatments and products.f

Our goal is to become your skin care partner for life. Using the right products at home will help you achieve and maintain healthy skin!
We proudly offer great products from Image® Skincare, Lira Clinical™, EltaMD®, and NutraLuxe MD® which incorporate cutting edge technology with science and utilize the latest advancements in skincare ingredients to combat the signs of aging.
Image® Skincare
Image Skincare is an evidence-based clinical skin care company, providing professional, advanced skin care products and effective skin care solutions. Formulated with antioxidants and a rich blend of natural botanicals and peptides, Image Skincare addresses a wide variety of cosmetic concerns such as anti-aging, prevention, sensitive skin, eczema, rosacea and more.  Image's philosophy is "age later" – and their products at AVIE! will help you do just that!
Elta MD®
Elta MD's physical broad-spectrum sunscreen offers both UVA and UVB protection and is formulated with natural zinc oxide and antioxidants to neutralize free radicals. In addition to being noncomedogenic, paraben-free, fragrance-free and sensitive skin friendly, Elta MD is water resistant, making it perfect for everyday use as well as fun in the sun.
NutraLuxe MD®
NutraLuxe Lash MD is a breakthrough product to use Prostaglandin I.C., an ingredient that results in longer, fuller, thicker and darker eyelashes and eyebrows in just a few weeks. It will also help to prevent and repair adverse effects or damage to your eyelashes and eyebrows caused by harsh cosmetics and environmental influences. NutraLuxe Lash MD's essential peptides, vitamins and botanicals help condition while strengthening and replenishing your lashes and brows, to prevent breakage and improve thickness.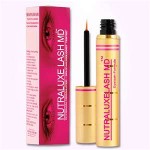 SkinMedica®
SkinMedica®, now available at AVIE!, offers a wide variety of innovative skin care products to improve the overall appearance of your complexion. Safe for all skin types, these scientifically formulated products include essential minerals and TNS® — a patented blend of growth factors, soluble collagen, antioxidants and matrix proteins. SkinMedica®'s passion for healthy skin has undeniable results – beautiful and radiant looking skin!
Alastin Procedure Enhancement Systems
Take your skin rejuvenation treatments to the next level with Alastin's Procedure Enhancement System. These products are specially designed to enhance non-invasive skin rejuvenation results by prepping the skin two weeks prior to treatment, stimulating the skin to attain optimal results. Alastin's non-invasive Procedure Enhancement System also includes post-treatment products to care for the skin and support a quick and healthy recovery. This kit includes skin nectar, a gentle cleanser, moisturizer, and a sunscreen. This system is perfect for treatments that require minimal to no downtime like microtherapy.
Alastin's Invasive Procedure Enhancement System is great for more ablative procedures like the North Star Peel™, MicroLaserPeel®, and Profractional™ Laser Skin Resurfacing. This kit helps the skin heal quicker from more invasive treatments by focusing on the skin's elastin, resulting in less downtime and swelling. The invasive kit includes skin nectar, a gentle cleanser, occlusive moisturizer and Alastin moisturizer as well as sunscreen.